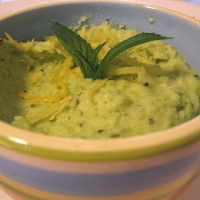 Yeah, you read that right. I have grown to love lima beans. When I was a kid my mom cooked them until they were tough and chewy and tasted like sawdust. Say NO to yucky, overcooked vegetables!
When I got limas in my Fairview Gardens shares, I was initially bummed. But I decided I could redeem my lima dislike. Which was easy. Here goes:
LIMA BEAN HUMMUS

Salted water to cover
16 ounces frozen lima beans
4 garlic cloves
Zest of a lemon
Juice of 3 lemons
1/4 of a white onion, roughly chopped
(this was important: recipe suggests red onion or a sweet Vidalia onion)
2 tablespoons fresh herbs
(oregano, thyme or basil)
2 tablespoons olive oil
(use more if you want it more creamy, of course)
Salt & pepper to taste
Cook the lima beans and drain well. Place all the ingredients in a food processor and process til smooth. I like my hummus with veggie chips or some raw vegetables. Goodness I'm healthy.