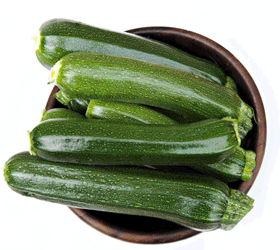 Picture this... it's 5pm, and you're trying to figure out what to make for dinner. You've got zucchini
(lots of it, let's be honest, it's summer)
and cilantro in your crisper. They look good, but your brain can't come up with something that sounds substantial enough to call "dinner." What's a girl to do?
Thank you interweb.... this was easy and so darn good.
Ingredients
2 zucchini, cubed

2 potatoes, cubed

(I keep a 1-lb bag of organic potatoes on hand)

1 can diced tomatoes with liquid

(I always have a box of the Costco organic cans on hand in my pantry)

1 tsp turmeric, divided into 1/2 tsp

portions

1 tsp ginger paste

1 tsp ground cumin

1 tsp kosher salt, divided into 1/2 tsp portions
h

ealthy pinch of sugar

1/4 c minced fresh cilantro, more for garnish


1/2 c. water

olive oil

for frying

2 tsp cornstarch

w

arm na'an bread or rice
Directions
If you're eating this on rice, start the rice.

Place zucchini and potatoes in a large bowl and marinate in 1/2 tsp salt and 1/2 tsp turmeric for 5 min.

Heat oil

(I used 1 tb oil - the recipe I found did not specify... go with what feels good to you!)

in a sturdy pan

and fry potatoes & zucchini on medium-low heat for 5-6 min till golden brown. Remove and keep aside.
Add more oil

(1 tb?)

, add in the ginger paste, cumin, turmeric, 1/2 tsp salt and chili powder. Fry for 2 min and add in the tomatoes & liquid from can. Fry well for 5-6 min and add in the vegetables. Add in the sugar and water and cook till done

(when potato chunks are soft)

.

With 5 minutes left, mix 2 tsp cornstarch with 1/2 c water till blended. Stir in to thicken sauce.

Garnish with minced cilantro.

Optional: top with sour cream, unsweetened coconut, raisins and chutney.
Hello, amazing leftovers.