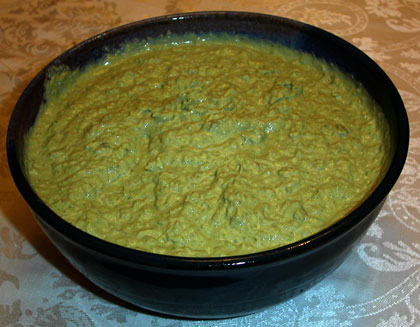 Yes, I'll admit it -- fava beans are my new "fava-rite."
(Cheesy, but it works.)
Other than a horrifying line in
Silence of the Lambs
, I had never uttered the the words "fava beans" till I joined
Fairview Gardens CSA.
But my motto is, if it shows up in my weekly share, I eat it. All part of the manna that God provides.
I made a
good dish
the other week with the favas, but wanted to try something else. I looked at my grocery list today and saw "hummus" on the list, then thought,
hmmm, I bet I could make fava bean hummus...
and oh baby, was I right!
Once you get over the fair amount of work it takes to prep the beans themselves, it's quick and easy to make the hummus. I googled a few recipes, but worked with what I had in the pantry, and it came out PERFECT. My housemate and I had to restrain ourselves from just eating it all immediately. It is very flavorful, and unexpectedly, very pretty.
FAVA-RITE HUMMUS
Bag of Fava beans, shelled, boiled and peeled
(see below)
... whittles down to 8 oz. beans
2 tb sesame seeds
2 tb olive oil
1 tb lemon juice
1 tsp kosher salt
2 tsp crushed garlic
1/2 tsp cumin
3 drops of your favorite hot sauce
1. Prep the favas. See these directions from Fairview Gardens: http://fairviewgardenscsa.wordpress.com/2010/04/11/how-to-cook-fava-beans/ But rather than boiling the shelled beans for 1 minute, boil them for about 10 minutes (till they are very soft). Squeeze them from their little jackets.
2. Put all the rest of the ingredients, along with the shelled & cooked beans, into a food processor.
3. Restrain yourself from eating immediately. Enjoy with lavosh or pita bread, or with chips.